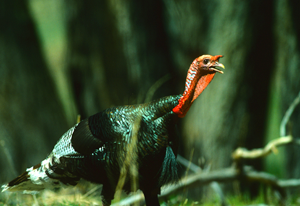 If you know how to yelp in Spanish, then you may want to consider hunting the Gould's wild turkey.  The Gould's is the largest of the North American wild turkeys with longer legs, larger feet, and a bigger tail fan.  Otherwise, the Gould's looks very much like the Merriam's turkey.  The Gould's turkeys have copper and green iridescence to their body feathers, and the gobblers are very beautiful when in full strut displaying for their hens.
Not only do the Gould's wild turkeys look very similar to a Merriam's but they are mountain turkeys as well. The Gould's turkeys can be found primarily in the northwestern portions of Mexico in the Sierra Madre Occidental mountains in an area running from the US/Mexico border south.  There are also pockets of Gould's turkeys in the mountains of southern New Mexico and Arizona, thanks to the restocking efforts of the NWTF.
In Mexico, you can find huntable populations of Gould's wild turkeys in the states of Durango, Chihuahua, Sonora, Sinaloa, Jalisco, Zacatecas, Coahuila, and Nayarit, with the majority of record book turkeys being taken in the state of Durango.
The restocking efforts for the Gould's wild turkey is truly remarkable when you consider the cooperative efforts that had to take place between the US and Mexican governments, as well as the state governments.  We all know that getting government bureaucracies involved in any venture is a recipe for disaster, but the efforts of the NWTF and its volunteers in this instance have been instrumental in making the restocking efforts a success so far.  Hunting Gould's turkeys in the US can be done in Arizona with a very limited number of tags available annually, but most of the hunting for Gould's takes place in Mexico.
While you are searching for an outfitter in Mexico to hunt Gould's wild turkeys with, remember that it is very difficult to bring your own guns into the country, so if you want to bring your own gun I recommend starting the process about 12 months before you plan to hunt.  Most outfitters that you will hunt Gould's wild turkeys with will provide nice shotguns and good ammo as well, so don't hesitate to make your travels easy by using one of the outfitter's guns.  The Gould's turkeys seem to like the sound of a high pitched box call just like the Merriam's does, so make sure you have one in your vest when you are packing your bags for your hunt.  Also, the hunting season is rather lengthy, so you should definitely be able to squeeze in a Gould's hunt before or after your favorite state's turkey hunting season.