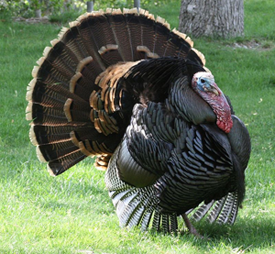 Rio Grande Wild Turkeys are native to the central plain states, Texas, Oklahoma, Kansas, New Mexico, Colorado and Oregon. The Rio was also introduced to California and Hawaii. The Rio Grande turkey is a tall turkey because of its long legs, and it has a buff to very light tan color on the tips of its lower back and tail feathers. The feathers on the body of a Rio have a copper and green iridescence to them.
The Rio Grande wild turkey, just like all of the subspecies, has to have water, but because the areas that it inhabits are very arid, the Rio has a range limited to a short distance from water. Rio Grande wild turkeys love to roost in Cottonwood trees, and it is not unusual to see 10-20 birds roosted in the same tree – day after day.  Because of that, many outfitters do not want hunters to hunt in the roost areas for Rio's, so that is a question you may want to ask an outfitter before booking your Rio hunt.  Hearing 8-10 gobblers sound off from the same tree in the pitch black dark before dawn is extremely exciting. Rio Grande gobblers are very vocal and will gobble at almost anytime of day, which means that you can put together an action packed Rio hunt at any time.
Because of the relatively open terrain that Rios inhabit, they don't mind traveling a long distance to find love from a beckoning hen. Keep this in mind so you don't spook a bird while trying to close the distance for an opportunity to get a shot. Rios grow fairly big, and they can grow some pretty big spurs, perhaps because of the sandy soil they walk doesn't break many spurs.
The areas that many Rios live in can be quite brutal for hunters because it is filled with sand burrs, cactus, rattlesnakes, locust trees, scrub oak, rattlesnakes, mean mosquitoes, heat, wind that always seems to blow, and rattlesnakes. Bring your sunscreen, bug spray, long range turkey shells, snake boots, bird shot for snake extermination, and your box call to cut the winds so your turkey can hear your calls.